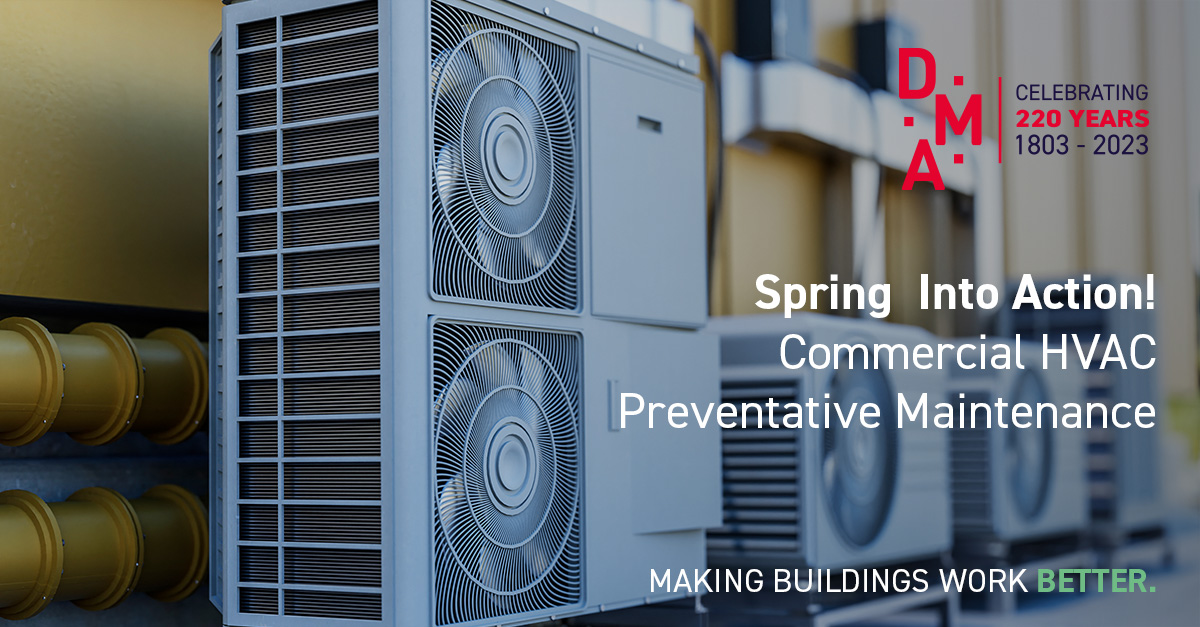 It's time to spring into action with your commercial HVAC preventative maintenance!
If you own a commercial building, you know that the heating, ventilation, and cooling (HVAC) system is a vital part of the property. An HVAC system that isn't properly maintained can break down when you need it the most – leaving you without heat in the winter or cool air in the summer. Most importantly, neglecting areas of preventative maintenance will cause your system to decline in performance, making it work harder, and increase your energy consumption.
That's why a commercial HVAC preventative maintenance plan is so important.
The importance of a commercial HVAC preventative maintenance plan
A commercial HVAC preventative maintenance plan is designed to oversee the operation of your commercial HVAC systems to limit the likelihood of them breaking down unexpectedly. Regularly scheduled inspections, maintenance and tune-ups of your HVAC system will help to ensure that your system is performing at peak efficiently and that any potential problems are caught early before they have a chance to cause major damage or disruption.
A good commercial HVAC preventative maintenance plan can save you money in the long run by extending the life of your HVAC system, avoiding the need for costly repairs. It can also help improve the indoor air quality of your building, helping to ensure that your occupiers are safe and comfortable in their environment.
In both large and small buildings, HVAC accounts for approximately two thirds of industrial energy demand and a fifth of global energy consumption. As we all have a part to play in the journey towards net zero, the actions that are undertaken in a regular HVAC preventative maintenance plan can play a huge part in lowing your carbon footprint.
Six important steps of commercial HVAC preventative maintenance
Spring and autumn health checks, which may include cleaning and the inspection and testing of motor operations, connections and electrical controls.
Check and replace (when required) air filters.
Cleaning of coils, drains and elements.
Check or reset the thermostat programming for seasonal change.
Visual inspections
Testing of safety controls
Having a comprehensive Asset Register in place will help you to identify what systems you have, where the assets are located (if you have multiple commercial properties), what current Planned Preventative Maintenance (PPMs) are already in place, and what adjustments need to be made to it based on their use.
The consequences of not performing commercial HVAC preventative maintenance
Increased monthly energy bill
Poor air quality: HVAC systems that are not properly maintained can lead to increased health risks to building occupiers caused by heat, mould and bacteria growth
Recurrent breakdowns and shorter lifespan
Shorted lifespan of your building fabrics; materials, computer systems, and equipment can be damaged by extreme changes in temperature and may require costly replacements
Failure of HVAC systems can cause significant monetary loss to your business. However the cost of replacing your HVAC system may seem minuscule if the failure has caused and cascaded into water or fire damage.
Where to start: SFG20 HVAC standards and maintenance schedules
SFG20 was established in 1990 by the Building Engineering Services Association (BESA) and is recognised as the definitive standard for managing planned and preventive maintenance. SFG20 is in essence, a database of over 1200 maintenance schedules for more than 70 equipment types, including HVAC systems. The maintenance schedules include information what actions are statutory, business critical, optimal and discretionary. Schedules also include information such as what is necessary to maintain each asset, frequency, and skillset required.
SFG20 is widely considered to be the industry standard for maintaining, managing and the specification of building maintenance, and can assist you, coupled with manufacturers recommendations, in structuring and customising your maintenance schedules to suit your business needs whilst staying on top of ever-changing legislation.
How to find a reputable company to perform your commercial HVAC preventative maintenance
Your building is your investment. It's important to find the right company to work with you to help you with the planning and execution of your commercial HVAC preventative maintenance regimes. Here are some tips that will help you to find the right company:
First and foremost, a company should hold the right accreditation, certification, and relevant memberships of trade bodies in order the perform the required preventative maintenance regimes.
Accreditations and Certifications:
F Gas Certification: This certification is required by all HVAC technicians who work with equipment containing refrigerants covered by the F-Gas Regulations. It demonstrates that the technician has completed the necessary training and has the knowledge and skills required to work safely with refrigerants.
Refcom Elite: Refcom Elite is a certification scheme for companies that work with refrigeration and air conditioning systems. It is a legal requirement for companies to hold this certification if they carry out installation, maintenance, or decommissioning work on equipment containing F-gas refrigerants.
Gas Safe Register: The Gas Safe Register is the official gas registration body for the UK. It is a legal requirement for all gas engineers to be registered with Gas Safe in order to work on gas appliances.
Associations and Memberships:
BSI: The British Standards Institution (BSI) is a global organization that provides testing, certification, and quality management services across a range of industries, including HVAC. BSI certification can help demonstrate a company's commitment to quality and best practices.
CIBSE: The Chartered Institution of Building Services Engineers (CIBSE) is a professional body that represents HVAC engineers and other building services professionals. Membership of CIBSE can provide access to a range of training and development opportunities, as well as networking and industry events.
A company should use SFG20 as their maintenance standard which provides a consistent and structured approach to planned preventative maintenance. Your HVAC system should link to an SFG20 code which dictates the maintenance tasks and the frequency of maintenance required. They should also be able to demonstrate at least three years of experiences of maintaining similar HVAC systems, through case studies or customer references. Finally, a company should provide access to an online CAFM or service management platform which allows you to view your planned maintenance schedules and any supporting compliance documentations including any remedial action reports.
If you would like to know more about the services that DMA Group can provide in respect to your commercial HVAC preventative maintenance regimes, please get in touch.